Rentman Overview
Rentman is the Event and AV industry resource planning and management application that helps businesses manage their everyday operations and optimize their processes. The synchronous cloud solution is perfect for project planning management. Rentman offers greater control over your workforce, transportation, and equipment planning. Collaborating with the software allows the entire business unit to do more tasks in less time.
Rentman Features
Some of the key features Rentman offers include:
Crew Scheduling;
Customer communication tools;
employee communication tools;
Equipment Scheduling;
Equipment Tracking;
Integrated CRM and tools;
Quoting and Invoicing.
Rentman Pros and Cons
Some advantages and disadvantages of Rentman include:
| | |
| --- | --- |
| PROS | CONS |
| Better organization; Document template customization; Ease of use; Easy planning and scheduling; Easy project tracking; Frequent updates; Great customer support; Inventory management; Invoicing integration; Quick and helpful UI/ UX. | The biggest con is that there is no built-in e-commerce / web site integration; Confusing features; Detailed user customization setting; Incompatible features; Limited admins/ space (zero interaction with NFC/ RFID); No offline version; Old script coding incompatible with new tech; Setting up new project takes time; Steep learning curve. |
Rentman Pricing
Rentman has a flexible pricing model; you may use it as an all-in-one package or simply purchase the add-ons and goods that you require!
| | | |
| --- | --- | --- |
| Package Type | Inventory Solutions | Crew Solutions |
| Essential | — | $9/month |
| Standard | $19/month | $19/month |
| Pro | $25/month | $25/month |
| Enterprise | Custom Package Offering | Custom Package Offering |
Why Consider an Alternative?
Evolving business needs necessitate extremely time-efficient application support on a day-to-day basis. Business owners are looking to find alternative solutions so that tasks can be completed very quickly with existing bookings and commitments displayed in real-time.
With the dynamic everyday business needs, the requisite for feature-rich software becomes essential. Fast-paced working environments are now looking for alternative open-source rental software. Sales Igniter Rental Software can be the best bet for businesses looking for added features and functionalities under one umbrella.
Why Sales Igniter Rental Software?
By maintaining a record of online reservations and the quantity of a product, Sales Igniter enables outstanding rental inventory management and customer interaction. Sales igniter may be used to publish and push marketing emails and is compatible with Sugar CRM, ZenDesk, and other CRMs.
Open-Source Software
The Sales Igniter Rental Software is built entirely using open-source MySQL, jQuery, and PHP code. This implies you may use any text editor to modify, inspect or examine the code. It also infers that your developer is free to adjust it to meet your specific requirements.
When assessing rental software, buyers must pick between SaaS and open source solutions. Based on your requirements and budget, each platform type may be preferable to the other. However, considering the ability to adjust app code to fit the specific needs of your business helps more than using a one-size-fits-all software application.
Multi-Store & Multi-Inventory Capabilities
A question most buyers ask before deciding to buy rental software is to determine and understand the application's multi-store, multi-inventory capabilities. When it comes to Sales Igniter Rental Software, users can run a multi-store, multi-inventory set-up.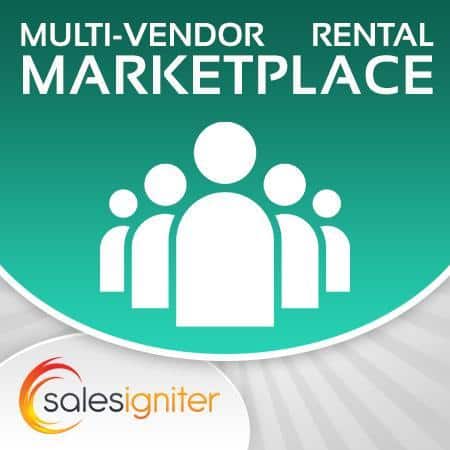 A multi-store capability implies users have the power to seamlessly integrate different inventory, store-fronts, design templates, and domain names in the software. With Sales Igniter Rental Software, you can establish a white-label, fully-customizable software featuring single- and multi-vendor marketplaces or websites.
Extendable and Customizable
Add custom or extendable features becomes easy with Sales Igniter, thanks to the software's open source design. The company offers a custom rental system and software development to satisfy the business needs of all markets in the rental industry.
The customizable and extendable features offer rental businesses more power to efficiently manage business affairs involving the service of equipment, sales, and renting.
Magento 2 Extension & WooCommerce Bookings Plugin Version
The Magento 2 rental booking plugin gives you total control over your rental inventory, including adjustable pricing and calendar designs.
The Magento 2 extension version or the WooCommerce bookings plugin version simplifies equipment rental booking. Customers may simply check availability, bookings, and pricing from the website using these extensions or versions. You may also book orders for clients and accept a variety of payment methods, including PayPal, credit card, and cash.
Sales Igniter Rental Software Features
Some of the key features Sales Igniter Rental Software offers includes:
Booking Calendar Preparation/ Management;
Catalogue and Product Maintenance;
Check-in and Check-outs;
Content Management System;
Customer Support;
Design;
Inventory;
Language, Currency, Tax Support;
Marketing;
Non-encrypted Source Code;
Order Management;
Payment & Shipping;
Rental Contracts Preparation/ Management;
Reports.
Pricing
| | |
| --- | --- |
| Regular | $499 |
| Pro | $899 |
| Multi Source Inventory Pro | $1999 |
| Starting Price | $499.00 one time |
Other Advantages
The aspect that Sales Igniter is a web-based rental app and has the most powerful e-commerce shopping cart built-in is the most significant advantage. Usually, systems identical to such software apps are Windows-based and require a central server to maintain and update inventories. Merchandise may be maintained, modified, and adjusted with Sales Igniter from any web browser on any device. Sales Igniter also does not have any ongoing costs. Once you purchase the program, it is fully yours, and it will be operational within 24 hours.
Live Demo
Are you looking to get a live demo of the Sales Igniter Rental Software, or do you want to learn more about the software, the company updates, or more? Signup today and get free marketing tips for your rental businesses, learn how to use our rental system, and get special offers. Don't worry, we will not email you too often.