Editing Text
#
Editing Page Content and Blocks
#
Go to admin > content > pages from here you can edit homepage content and other content pages. The same goes for blocks. Blocks are blocks of content that can be included in pages, sometimes a page is made up of many individual blocks. For example some themes use a "Footer" block for editing the footer of the website.
Editing Text Strings Like "Rent" Button Text With Theme Translate CSV File
#
Please check the Magento 2 docs here: https://devdocs.magento.com/guides/v2.3/frontend-dev-guide/translations/translate_practice.html
Using Inline Translate
#
Other text on the site (besides the Rent button text) can be edited using what is called "inline translate" these translations are stored in the database. First disable the cache in admin > system > cache management > select all > disable.
To enable this go to admin > stores > configuration > advanced > developer > translate inline > enable for frontend. If your store is live, make sure to only enable developer mode for your ip address in the same menu under "Developer Client Restrictions" and put your ip address there.
This mode will make Red outlines around text that can be translated and a little book icon that you click to translate the text. Example:

So if we click that book icon we will get a popup: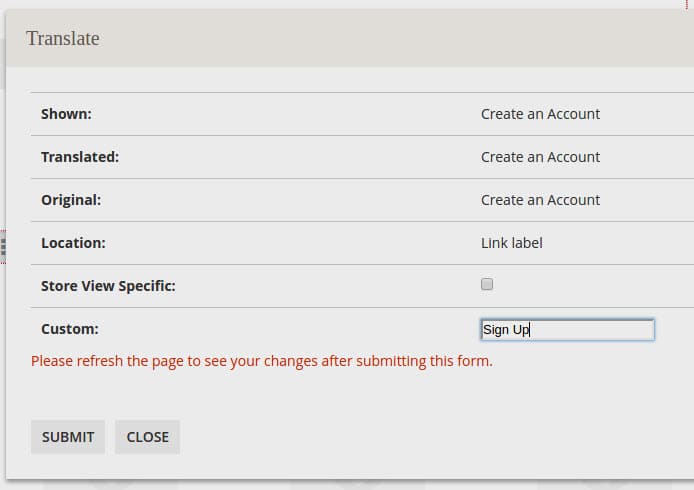 Here we have changed the text Create an Account to Sign Up
Editing Email Templates
#
The official documentation has an excellent section on this. After you add your custom templates in the admin > marketing > email templates area please remember that you need to assign the email template in admin > rentals > settings > emails section