Please note that this feature is only available in the Pro version
General Settings
#
The general settings are found in Rentals > Settings > Rental Order Extensions
You can configure if you want to allow or not rental extensions, and how long before the rental end date to allow an extension.
Customer Side
#
The customer will be able to go into their account area and see the Extend Order link if their rental order qualifies for extension. In order for the link to show up the following criteria needs to be met:
a) Today's date needs to be after the start date
b) Today's date needs to be before the end date – config days before end of rental setting
c) Order can have no products returned
Here is how it looks on the customer side order page for where they can extend the rental:


Here is a screenshot of the extend order choose date popup: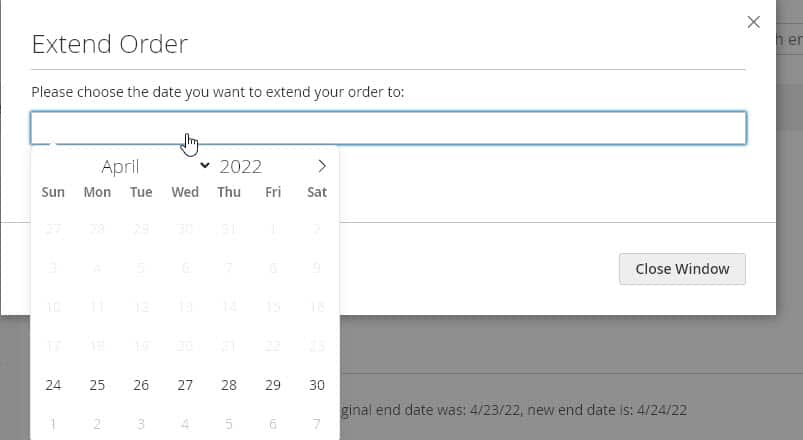 Notes
#
1) No shipping fee will be charged on rental extension orders, the order type will be set to virtual in order for this to happen.
2) Inventory is checked before the customer can choose the rental order extension date, if there is not enough inventory then the rental extension order date won't be allowed.
3) Order notes will be added to the order on the original order showing what the new rental extension end date is, and an order note is also added to the rental extension order so that it's easier to track which orders are for rental extensions.
4) The original rental order inventory end date will be extended so in the reservationorders table there will not be a second entry for the rental extension order. Also the Rental extension order will not show start and end dates in the Sales > Orders grid since only the original order gets the inventory reserved.
Extending Orders As Admin
#
There is no button for extending rentals on the admin side, however you can instead "login as customer" in order to extend their order for them if needed. For more information about how to login as a customer please see the
official documentation
.