This feature is available in version 1.3+
The calendar style can be set in rentals > settings > calendar options > calendar style drop down. In the end of this page you can view a list of all the default style previews.
How To Create A Custom Style #
This will require a basic knowledge of FTP.
1. Go to http://jqueryui.com/themeroller/ and configure the style as you like, or download a preconfigured style from the gallery.
2. On the download page, choose version 1.11.1 and toggle all checkbox click it to unselect everything. Checkbox only the datepicker
3. Download it and unzip it. Copy the images folder and the jquery-ui.theme.css to the folder: skin/frontend/base/default/itwebexperts_payperrentals/datepick/custom1
You can have 2 custom themes. The custom1 would correlate to the Custom Style 1 setting in the admin: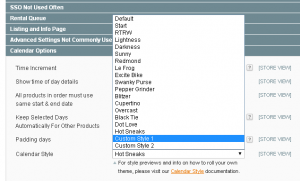 Default Styles Preloaded #
Cupertino

Darkness

Start

Dot Love

Blitzer

Lightness

Excite Bike

Pepper Grinder

Le Frog

Swanky Purse

Black Tie

Overcast

Sunny

Redmond

Hot Sneaks