Method 1 Using Inline Translate #
1) Go to admin > system > config
2) Select the store view you want to translate from current configuration scope (mainly necessary if you have more than one store view for multi-language)
3) Go to the config > advanced > developer > translate inline and set enabled for frontend to yes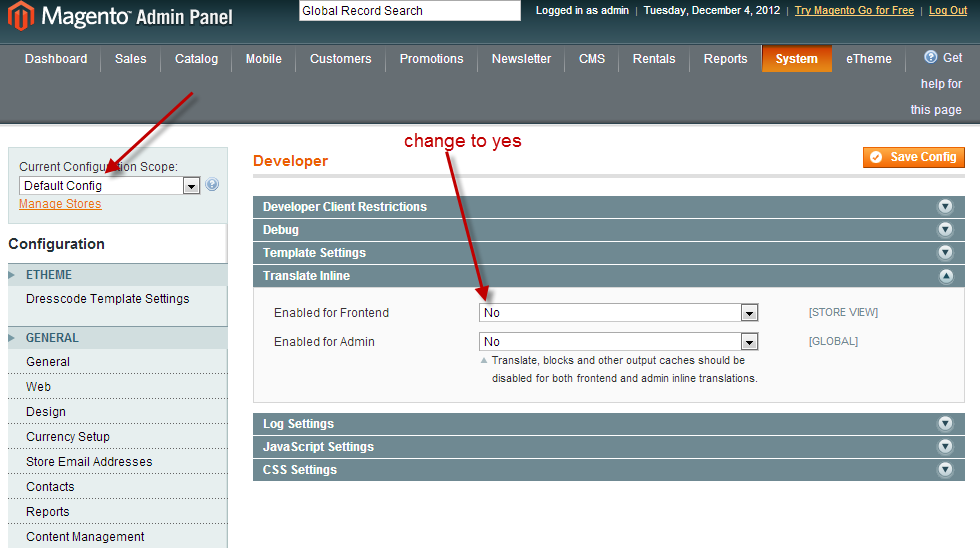 4) Save the config
5) Go to your website you will see red dotted lines around text. Click the book icon when you mouse over and it will open up a editor in a lightbox. Make the changes, save, refresh the page and you will see the text changes Note: Use Firefox NOT Chrome as Chrome does not work with the edit text feature.
Method 2 Using A Translate.csv file #
1. Find out what template package and name you are using in system > config > design
2. Go to app/design/templatepackage/templatename/locale/yourlocale/translate.csv download this file and edit it in a spreadsheet program. The first column is the text to translate, the second column is translation. Like if you wanted to change shopping cart to shopping basked, column 1 would be shopping cart, column 2 shopping basked.
3. After saving the file (make sure not to change it from csv to excel format) go to system > cache and refresh the translations cache.