Pricing For Late Fees & Order Extensions #
These are calculated based on the usual rental pricing you have already entered for your products. There is not a separate late fee price. So for example if you have a daily rate set to $5/day, late fees will also use this rate.
Extending Orders #
Extending orders can be done from the order view page in the admin. See the below screenshot:

Clicking this button will bring up a popup where you select to what date you want the order to be extended to.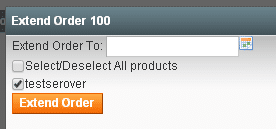 After that you will be shown the usual order create page where you can see what the extend order cost is, and save the extended order.
Orders can also be extended by the customer in their my orders page. See below:

Late Fees #
Late fees are added from admin > sales > returns > late returns page.

From this page click "Charge Fee" button to create the late fee order. Than after that you can click return to return the order.